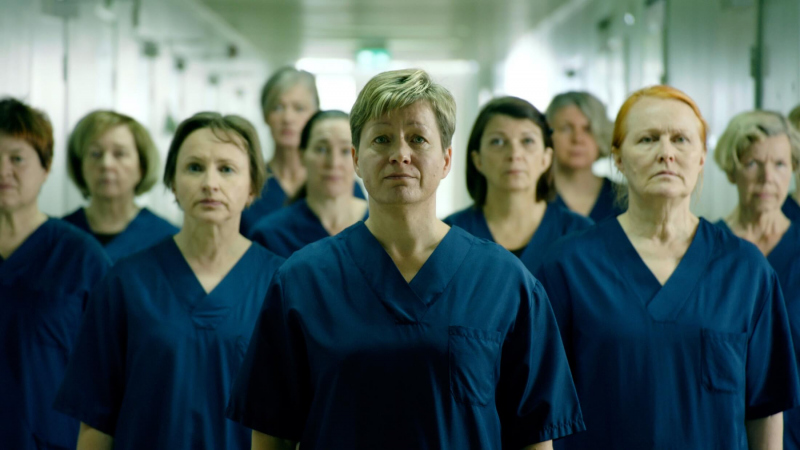 Ruthless Times - Songs of Care
A documentary musical about the dark side of privatization in Finnish nursing homes. Can hotlines, digital surveillance and robots replace the elderly's contact with others?
Should the same rules govern care for the elderly and the corporate world? Can robots replace qualified personnel, can video calls replace human contact in the name of optimization and rationalization? Susanna Helke tries to answer these questions using Finland as an example, where privatization of homes for the elderly has become a common practice. The director surprised viewers and the jury of this year's festival in Locarno (Zonta Club Award) with the original form of her story, whose rhythm comes from the hypnotic testimonies of nurses sung by a choir, reporting the faults in the system. "Songs of Care" is not only a rebellious image of a dystopian future, but above all an intimate and authentic portrayal of the relationships between seniors and their caregivers, filled with emotions and a discreet sense of humor.
Tadeusz Strączek
2022 Locarno (Semaine de la critique)
2022 IDFA
2022 Docpoint Helsinki (Best Film - National Competition)
2022 Tampere Film Festival (Main Prize - National Competition)
Screenings
Ruthless Times - Songs of Care
Ruthless Times - Songs of Care