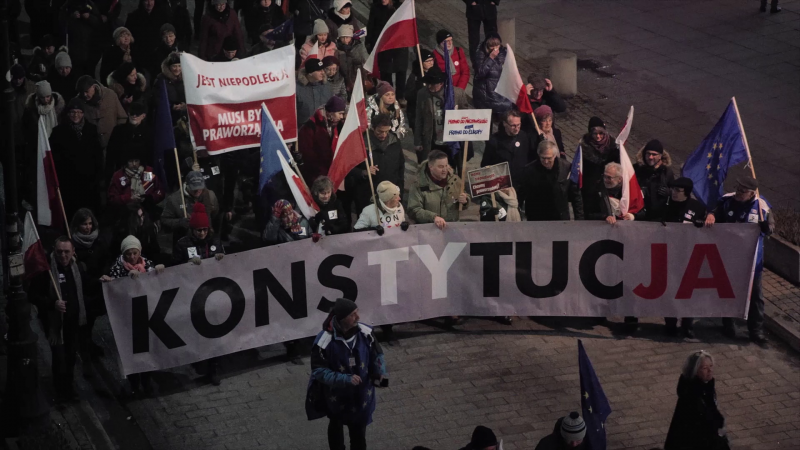 January 11, 2020, Warsaw - lawyers from 26 European countries demonstrate solidarity with Polish judges fighting for independent courts.
In Warsaw on January 11, 2020, judges, prosecutors and lawyers from 26 European countries demonstrated their solidarity with Polish judges fighting to maintain what remains of judicial independence. In the film we observe as they march in togas, shoulder to shoulder with Polish colleagues, surrounded by thousands of applauding Varsovians. Documenting this touching episode of the dramatic struggle for the rule of law that still lacks a happy ending, Kacper Lisowski also talks to the European judges participating in the march of a thousand gowns. Particularly poignant is the voice of a Turkish judge who knows from experience what happens when such a struggle is lost.
Maciej Nowicki

---
Screenings of the film as part of the WATCH DOCS travelling festival are co-financed by the European Union in the frame of the European Parliament's grant programme in the field of communication. The European Parliament was not involved in its preparation and is, in no case, responsible for or bound by the information or opinions expressed in the context of this action. In accordance with applicable law, the authors, interviewed people, publishers or programme broadcasters are solely responsible. The European Parliament can also not be held liable for direct or indirect damage that may result from the implementation of the action.
Screenings
Faculty of Social Sciences (auditorium)
Płocki Ośrodek Kultury i Sztuki im. Themersonów
Dziedziniec Zamku Piastowskiego 
Kino Zodiak w Mrągowskim Centrum Kultury
Antrakt Kawiarnia Artystyczna