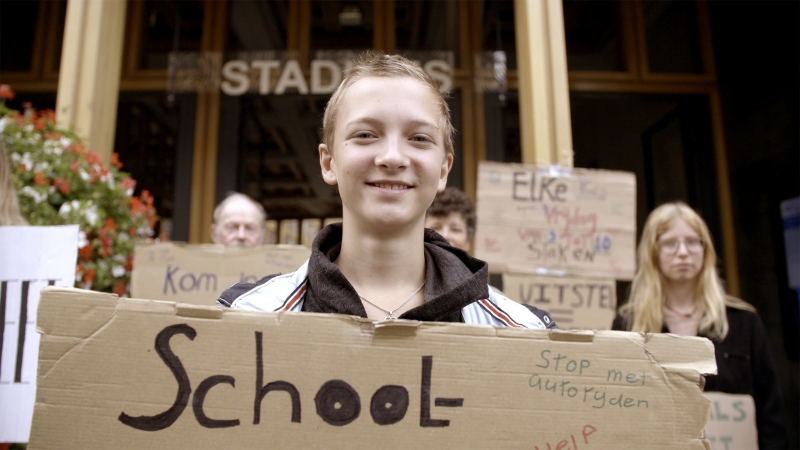 Teenage Jovanna goes on strike - a new generation sets the tone for the fight against global warming.
Jovanna, like many young people, was inspired by the Swedish teenager Greta Thunberg to take climate action. Following in Greta's footsteps, Jovanna takes to the streets every Friday as part of a "school strike for the climate" to draw adults' attention to the specter of a climate catastrophe. She realizes that only immediate action can ensure a peaceful future for her and her peers. It seems that she is even more aware of this than the politicians she calls on to finally look after the planet. She knows that children can't vote, so she has no choice but to demonstrate in public. This young Dutch girl—extremely mature for her age—isn't just speaking empty words. She doesn't eat meat, she doesn't have a refrigerator at home, and she gave up traveling by plane. Sometimes she dreams of a sweet dessert, which she refuses, however, because of the plastic packaging. The roles have been reversed: it is the younger generation that is teaching adults an important lesson about caring for the environment. But will we be able to do something about it in time?
Zuzanna Połynko
---
Festivals:
Millennium Docs Against Gravity 2020
IDFA 2019

---
Screenings of the film as part of the WATCH DOCS travelling festival are co-financed by the European Union in the frame of the European Parliament's grant programme in the field of communication. The European Parliament was not involved in its preparation and is, in no case, responsible for or bound by the information or opinions expressed in the context of this action. In accordance with applicable law, the authors, interviewed people, publishers or programme broadcasters are solely responsible. The European Parliament can also not be held liable for direct or indirect damage that may result from the implementation of the action.
Screenings
Closed screening for schools
Closed screening for schools
Młodzieżowe Centrum Kultury i Edukacji "Dom Harcerza"
pokaz zamknięty - Zespół Szkół Ekonomicznych + spotkanie
Biblioteka Centrum Kształcenia Zawodowego i Ustawicznego nr 1
I LO im. Tadeusza Kościuszki w Busku- Zdroju
film screening (a part of the workshops)
Miejska Biblioteka Publiczna w Jaworze
Publiczna Biblioteka Pedagogiczna w Poznaniu Filia w Gnieźnie
Publiczna Biblioteka Pedagogiczna w Poznaniu Filia w Gnieźnie
Publiczna Biblioteka Pedagogiczna w Poznaniu Filia w Gnieźnie
Świetlica Krytyki Politycznej w Cieszynie
Centrum Kształcenia Zawodowego i Ustawicznego  "Elektryk" w Nowej Soli
Społeczne Liceum Ogólnokształcące  "Szkoła Myślenia Twórczego"
Sala Kinowa - Centrum Kultury w Lublinie
Antrakt Kawiarnia Artystyczna