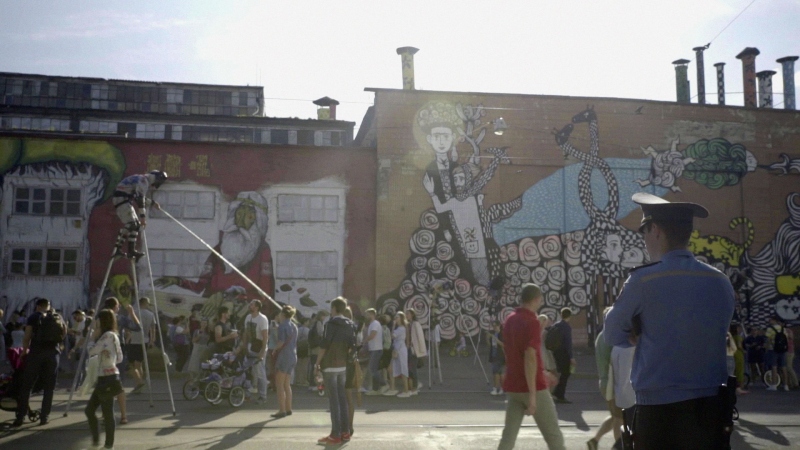 A Belarusian artist follows in the footsteps of municipal administration employees who paint over graffiti. Shot against the background of Minsk's monumental architecture, preparations for a huge parade and ubiquitous undercover agents.
In his film, Maksim Shved follows in the footsteps of the Minsk-based artist Zahar Kudin, one of Belarus's most interesting young painters. Kudin is inspired by ... municipal administration employees who paint over graffiti. Drab rectangles hiding personal confessions, as well as political slogans, are a pretext for the formulation of a playful artistic manifesto that makes references to Malevich's Suprematism. Walking around the city with a large white canvas, the painter attracts the attention of passersby, who gladly engage in discussions about art and life, as well as that of the ubiquitous undercover police trying to sniff out "political provocation." Pure Art is also a film about Minsk: its monumental architecture, broad promenades, and huge apartment blocks. Constantly appearing in the background are marching soldiers, tanks, and armored personnel carriers. This show of strength in the form of a huge parade metaphorically heralds a confrontation between the authorities and society.
Konrad Wirkowski
---
Festivals:
Docudays UA 2020
Kraków FF 2019
ArtDoc Fest 2019 - Best Director

---
Screenings of the film as part of the WATCH DOCS travelling festival are co-financed by the European Union in the frame of the European Parliament's grant programme in the field of communication. The European Parliament was not involved in its preparation and is, in no case, responsible for or bound by the information or opinions expressed in the context of this action. In accordance with applicable law, the authors, interviewed people, publishers or programme broadcasters are solely responsible. The European Parliament can also not be held liable for direct or indirect damage that may result from the implementation of the action.
Screenings
BLOCK: Window facing east
Museum of Dialogue of Cultures
Świetlica Krytyki Politycznej w Cieszynie
Wirydarz Centrum Kultury w Lublinie
Antrakt Kawiarnia Artystyczna